CASE STUDY
Vebar's continuous innovations in wireless battery monitoring helps UNC Charlotte obtain a government grant and create one of the greenest electric vehicle fleets in the nation.
CUSTOMER
CHALLENGE
In 2014, UNC Charlotte was looking for ways to fulfill its carbon footprint goal – to become one of the  greenest fleets in the country. They chose to minimize energy and pollution costs by using innovative battery monitoring and tracking methods for its fleet of Global Electric Motorcar (GEM) vehicles.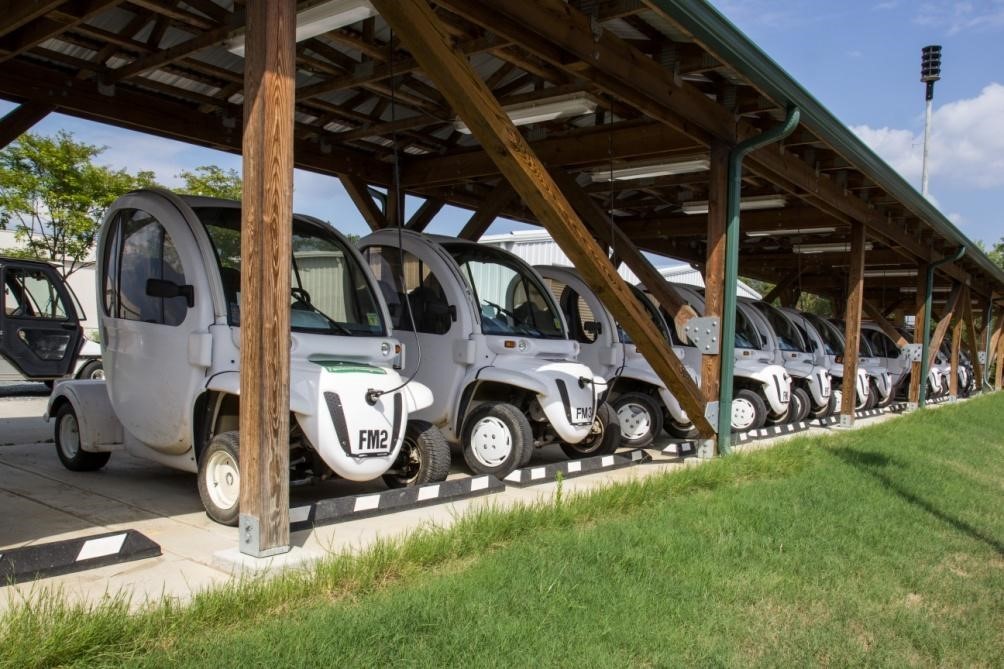 SOLUTION
"At first, I didn't think we could do it," said Chris Facente.  "We're a state institution and budget is always tight. But Vebar helped me position the monitoring project as a study – a study to learn and collect data that would be extremely valuable to our efforts to become greener. So I applied for a Clean Fuel Alternative Technology grant with the U.S. Department of Energy. The DoE awarded us the grant and we were off."
"To my knowledge this was the first time anyone had ever used a battery monitoring system on these types of electric vehicles. The parameters and operating environment for forklifts and industrial applications which Vebar is known for are very different. Being an engineer, Bart and his Vebar engineering team really helped customize the system to meet our needs."
"We started with 29 Vebar monitoring units across our fleet of 112 electric vehicles by targeting high-use vehicles. Across the board, we now have a lot better utilization because we can see where and how our vehicles and batteries are being used. We are able to see batteries' health in real-time and we can tell techs exactly which units to check.  Alerts are sent automatically to email and real time displays before they become expensive problems. The system isolates the battery pack to sections, allowing us to find a bad section before it ruins a whole pack. "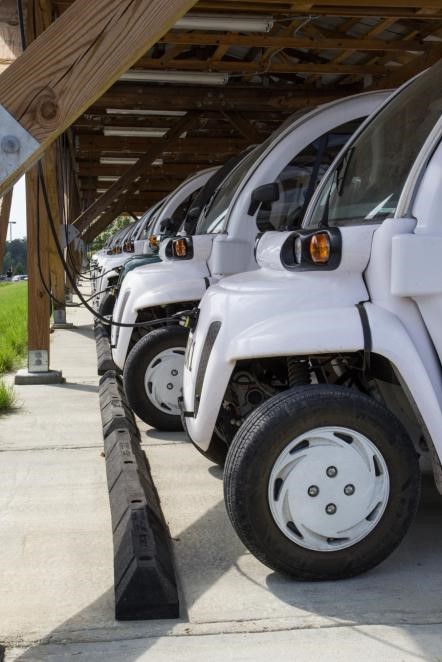 RESULTS
Immediately identified bad batteries, corrosion, bad cables and chargers that were "cooking" batteries.
Had a warranty honored to fix an issue before the driver even knew there was anything wrong. The Vebar system detects issues autonomously – saving time and money and reducing vehicle downtime.
UNCC now has real data from which to map its actual carbon footprint which it couldn't do before. For example, it shows fuel usage was reduced by more than 1,552 gallons in 2015.
The typical cost to replace an electric vehicle battery ranges from $220 to $250. Each vehicle requires eight batteries, which translates into a savings of $1,760 to $2,000 if issues are identified before a vehicle's battery breaks down or the warranty expires.
The College of Engineering at UNCC was so impressed with the capabilities of the Vebar system, they asked for a Vebar sensor to monitor one of their experimental solar panel battery rigs.  Vebar agreed to donate the sensor.  Lead by Miss Kristen Venditti, the UNCC engineering team installed solar panels on a GEM vehicle to charge the 72V battery. This successfully eliminated the need for charging the batteries with a regular charger.  During the tests, the Vebar sensor communicated all data in real time (during charge and discharge) to cloud services so the team had access to all data remotely from wherever they worked.
RECOGNITION AND AWARDS
In 2015, UNC Charlotte was recognized as the 24th greenest fleet in the nation and has remained on the Green Fleet Award's Top 100 list for the past 2 years.
UNCC won a Plugin NC Award from the NCDOT.
UNCC received Champion Level NC Smart Fleet Award from 2014 to 2017.
UNCC won an Environmental Leadership Award through the National Conference for State Fleet Administrators in 2015.
This case study was presented at the National Conference of State Fleet Administrators, NC Energy Conference and Triangle Clean Air Conference in 2016.
The Vebar system used on UNCC's GEM fleet won a Green Award granted by the US Department of Energy.
The College of Engineering team's electric vehicle solar project won first place at the Appalachian State Energy Summit.
WORKING WITH VEBAR
"Vebar is definitely cutting edge technology and this has proven to be a very worthwhile project. Working with the University has helped improve an already impressive system. It's been a real, win-win."
"The level of service can't get any better. Very communicative, very proactive. I wish all my vendors had the honesty and integrity of Vebar."
"I've heard of other systems; competitors are now coming out with their own versions but want to lock you in contracts with monthly fees. Vebar doesn't and I am perfectly happy with what we've achieved together."  JUST ANNOUNCED
Reduce energy costs, increase utilization and prolong the life of your battery fleet.
Call 855-MY-VEBAR to schedule a free, no-obligation demo.
See how your battery fleet can be optimized – effortlessly.
AUTOMATIC RECOGNITION OF BATTERY FLEXIS charger automatically recognizes [...]