You can't solve a problem until you can clearly see what you are dealing with as Stanley Black & Decker found out using Vebar's battery monitoring system.
CUSTOMER
Wayne Clabaugh, US Facilities, Maintenance & Engineering Manager, STANLEY BLACK & DECKER
CHALLENGE
With 1.5 million square feet of warehouse, 150 forklifts and 290 batteries running three shifts, seven days a week, Wayne Clabaugh knew things could be improved and his equipment could work harder, but he didn't have the data or the right partner to figure out how.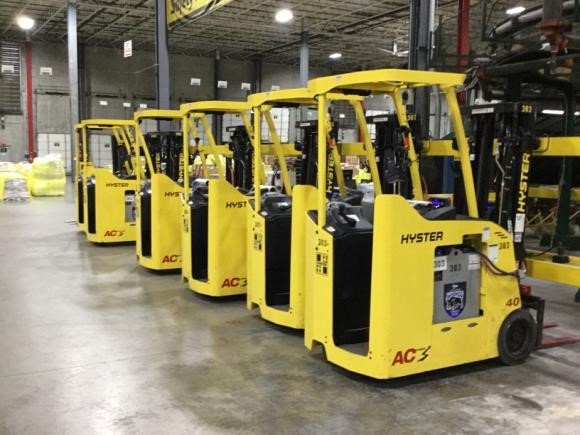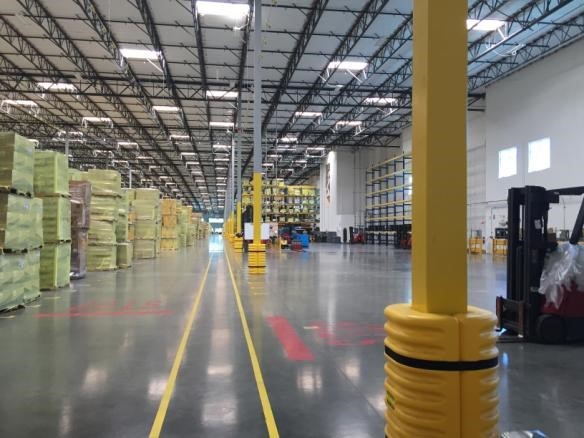 $570,000 in operation savings upon system installation at the 1.5m sq. ft. warehouse in Fort Mill, SC.
SOLUTION
"The first thing to know is that Vebar doesn't sell batteries" said Wayne Clabaugh.  "Their only interest is in helping me get more out of our existing battery fleet. Battery companies want to sell, sell, sell. It's not a bad thing, that's why they exist. But on my side, I need to save, save, save. Vebar makes that possible."
"The monitoring system runs on its own independent 4g/WIFI network, so we were able to move forward quickly and without internal IT issues. Vebar just brought it in, turned it on and we got all our info via a web portal right away."
"As soon as it came online, we could immediately see the value of the system. And most importantly, we saw how bad a shape our battery fleet really was. Vebar allowed us to focus on the 10-15 worst batteries at first to improve usage and cycle them out. We immediately saw we had two relatively new batteries which already had failing cells. To see that and take care of the issue while they were still under warranty was huge for us!"
"Also surprising was to find out how inefficient our FIFO system was. The data showed us that the batteries we thought to be the best, often weren't fully charged or they hadn't cooled down enough from charging when used. "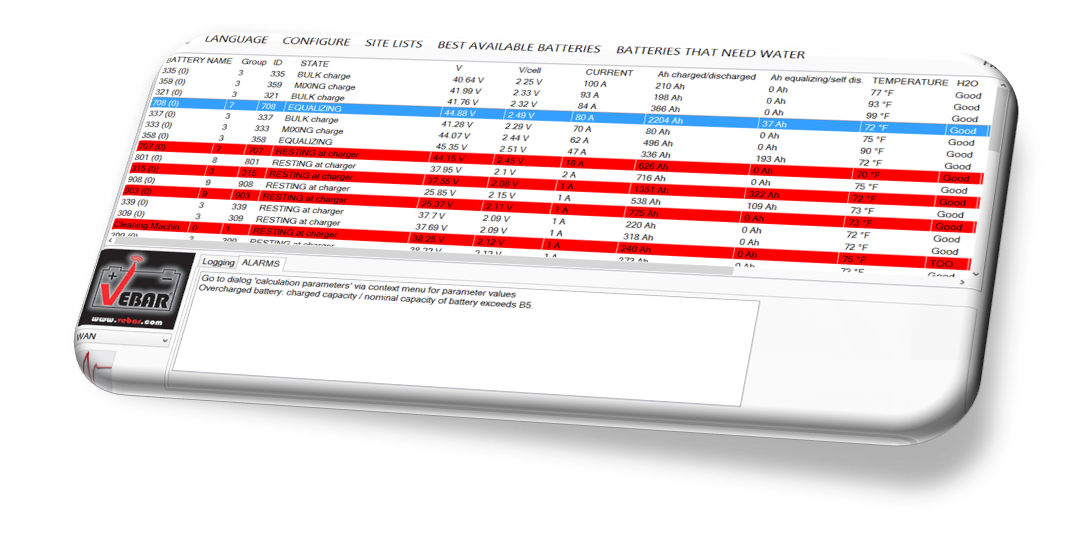 Instant and actionable data from the charging room with the Vebar system
"The way we budgeted before Vebar was based on rough averages of failures, but it's pretty clear now that this was unreliable, and we were spending more than we needed to — we just didn't have any real data."
RESULTS
$570,000 in savings upon system installation in the first warehouse by phasing out batteries with low usage.
Reduced battery fleet by 25% by maximizing battery utilization from 290 to 220 units for the same job.
10 months after the first demo of Vebar's battery monitoring system, Stanley Black & Decker's Fort Mill's warehouse battery fleet is in the best shape it's been in 23 years.
Issues with batteries before the equipment broke down were caught and SB&D was able to use warranties on newer batteries thanks to have the information early.
More accurate information and lower budgeting for maintenance moving forward.
Stanley Black & Decker now uses Vebar battery fleet monitoring systems in their three 1.3 mil + sq. ft.
distribution centers on the East and West coasts.
WORKING WITH VEBAR
"Vebar and the level of service they provide is second to none. They provide weekly updates on my fleet and Bart has become my go-to guy for everything related to monitoring solutions. We are already talking about incorporating the systems into a brand new warehouse we are building."
JUST ANNOUNCED
Vebar offers integrated forklift monitoring and camera recording systems that are accessible through the same Vebar web portal. Stanley Black & Decker now uses these video systems in all three of their 1.3m + sq. ft. warehouses.
The Vebar portal currently offers extensive battery and forklift management, combined with shock events with 4 onboard camera recording, centrally monitored forklift access control, electronic OSHA pre-shift checklist and task & ticketing system.  Vebar develops their web portal in-house and maintains secure cloud servers.
Vebar is also currently developing a custom-made ticketing system that combines vehicle maintenance and repair with OSHA pre-shift checklists.
Battery and lift truck monitoring technology
Battery-mounted technology can monitor the battery's charge, discharge, equalization, water level and temperature, utilization… with data points delivered to the manager through a web-based portal. In zero battery change applications, this technology can also improve lift truck visibility and operator accountability. In addition, reports from battery-mounted units can inform battery maintenance or training and can serve as warranty assurance in the event of a bad battery cell. These systems can add 20% to the life of a battery providing a six-month ROI.
Truck-mounted fleet management technology provides a more basic window into battery status in operations where batteries are not changed. These systems might monitor the voltage when the battery is plugged in, and the voltage when it is unplugged. Discrepancies in performance can identify trucks that were left unplugged or identify failing batteries.
Vebar. Reduce energy costs, increase utilization and prolong the life of your battery fleet. 
Call 855-MY-VEBAR to schedule a free, no-obligation demo today and see how your battery fleet can be optimized – effortlessly.
AUTOMATIC RECOGNITION OF BATTERY FLEXIS charger automatically recognizes [...]