Battery Organizing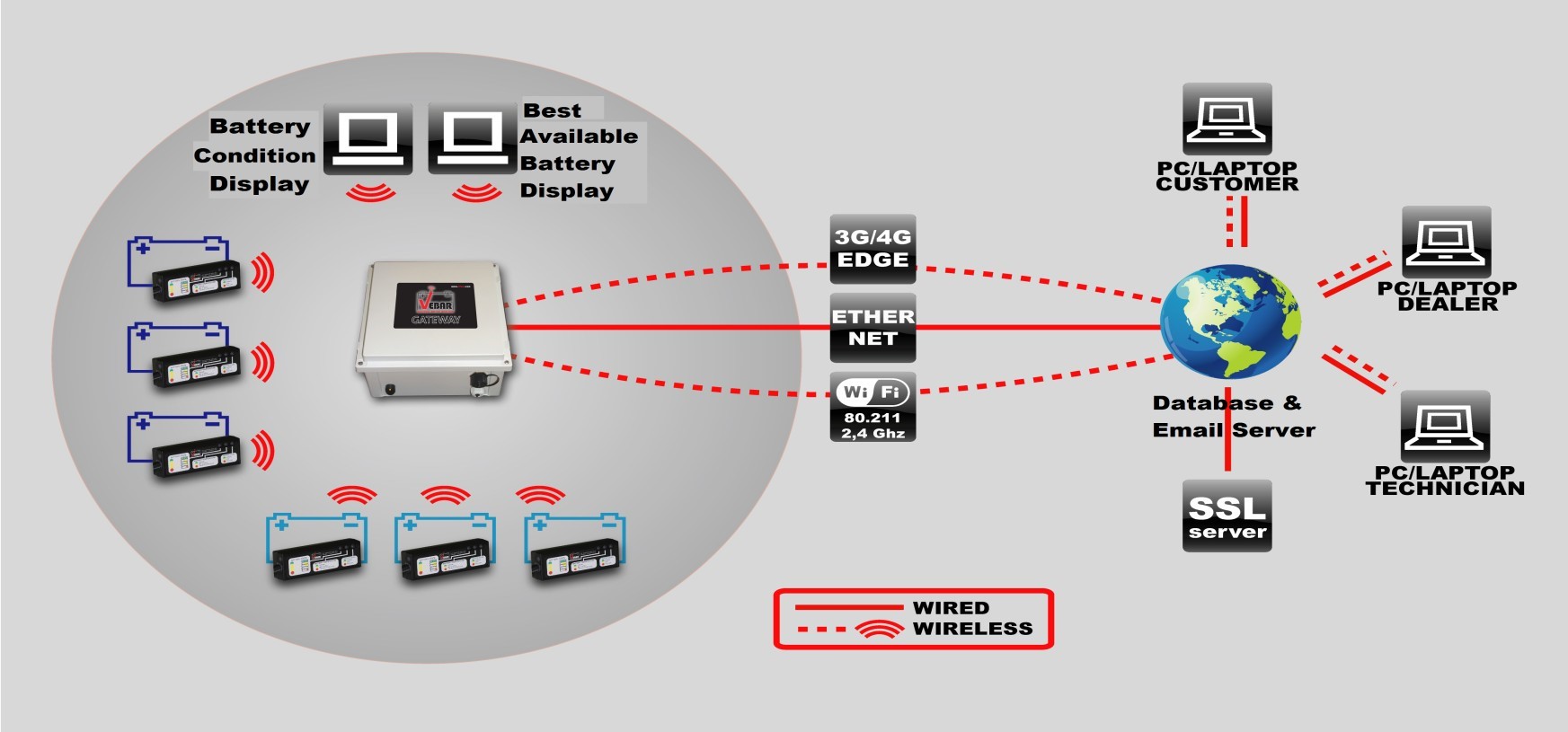 Wireless Battery Monitoring – System Components:
Vebar® Battery sensors are installed on the batteries: for Automated 24-7 Battery Health
Vebar® Best Available Battery Displays are installed in the charging room:
They inform the operator of the Best Available Batteries that have NO issues, are fully charged, cooled and ready to be used when forklifts come in for a battery change.
Vebar® Battery Condition Displays are installed in the charging room:
They inform the operator & maintenance personnel of the issues that have been detected by the Battery Sensors.
Vebar®Gateway is installed in the charging room:
The Gateway provides the wireless RF communication between the Battery Sensors, the Displays, the Remote Web Server, Remote users (LAN/WAN), the Web database and Email server.
Features
Battery Sensors, Gateway and Info Displays all use industrial RF wireless technology!
First Available Battery Indication, based on the real SOC, Health and Temperature.
Continuous and fully automated battery & charger performance checks.
Sensor records all important parameters
Automatic upload of logged info to an online database.
Historical data, key performance info, graphical reports and real time battery status are available.
Automated notifications:

on the Battery Sensor via LEDs
on the local Wireless Displays
Fully automated Email messaging
On your computer, in real-time, anywhere in the world (internet needed)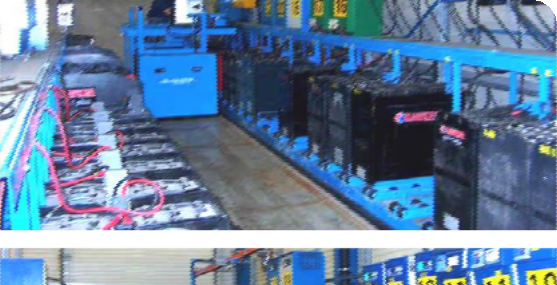 BENEFITS
Reduces Maintenance & Repair Cost for Batteries & forklifts.
Detects energy guzzling batteries so you can save BIG on energy.
– 50% savings are no exceptions! –
Reduces battery-related labor, minimizes battery changes and increases efficiency.
Identifies batteries that need water and detects many other battery issues far in advance, before they become expensive issues. Extends Battery Life.
Detects when chargers cause damage to batteries by overcharging & overheating.
Promotes even use of all your batteries, thus minimizing the number of batteries needed.
Typical ROI is less than 1 year.
Your battery vitals are constantly monitored and analyzed by the Vebar Wireless Battery Sensors.
The Sensor reports Alerts to wireless displays, your remote PC and your email*.
The state of health of your batteries is always clear: you are informed the moment a problem or exception is detected.
Historic data is available with the click of a mouse, on-board, on-site and on- line!*
WIRELESS BATTERY ORGANIZING SYSTEM
Vebar battery sensors communicate wireless with the Vebar Gateway*, that sends wireless info to the wireless FIFO displays.
They indicate the Best Available Battery and SOC, promoting the even use of all batteries.
With a Vebar network- connected Gateway*, all measurements, alerts and cycle data can be sent to a secure server to ensure lifetime data availability.
Reports are only a mouse click away.
Every battery issue can be confirmed by email to the appropriate mailbox(es).
*Vebar gateway needed.