Management:
– Sign up and log in to your secure Vebar Connect web portal: portal.vebar.com
Create your own checklist(s) questions or use the pe-loaded templates.
Create operators, supervisors & technicians. Add certification dates, assign allowed vehicle types.
Create vehicles/equipment and assign checklists.
Vehicle operators: (using assigned device(s))
log in the web app to perform a pre-shift inspection, if the operator's status and certifications allow.
find unsafe vehicles and equipment they are not allowed to operate, tagged-out and locked. (*)
Technicians / Supervisors:
receive email alerts when critical issues are reported during inspection.
update inspection checklist when repairs are made.
Management:
has instant access to all data & personalized reports, for all fleets and all sites.
gets near real-time view of all vehicle statuses.
is assured that only authorized operators use safe vehicles only.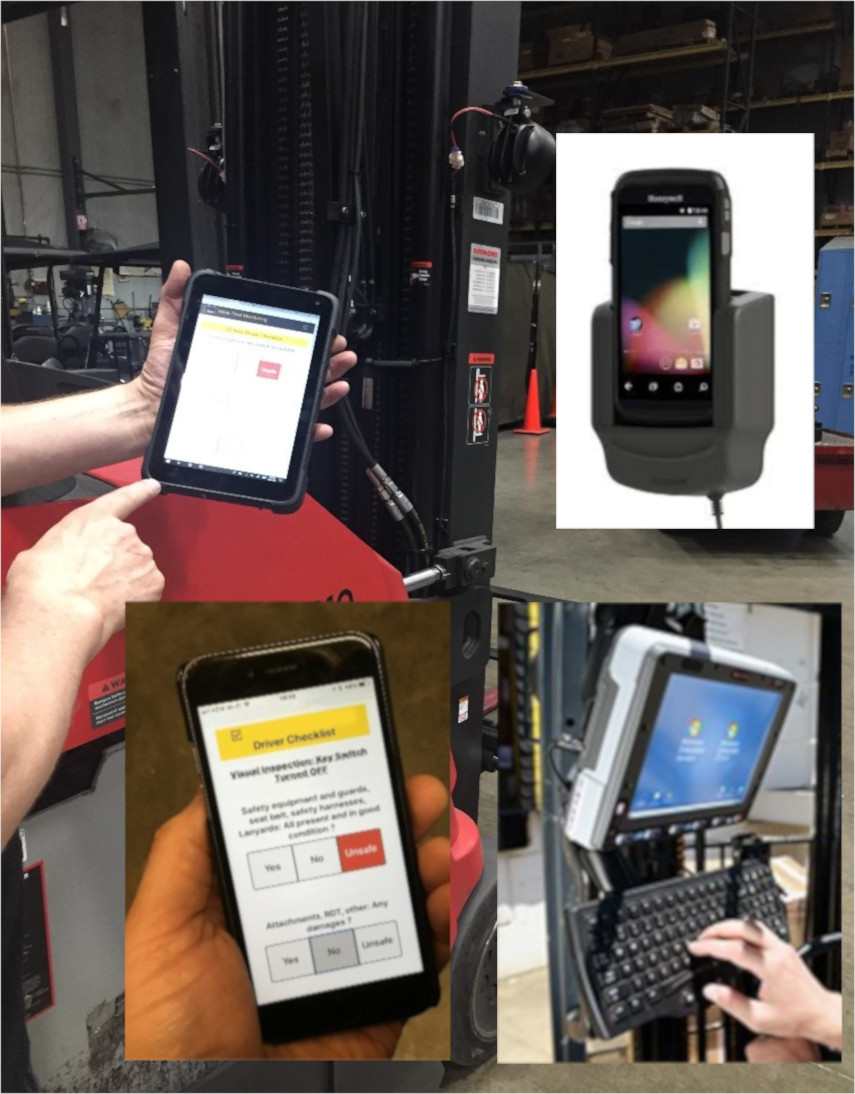 Operators, supervisors and technicians:
use their own smartphone, tablet, laptop or PC.
use new or existing vehicle mount devices.
use kiosks: local and remote.
Vebar supplies your industrial grade Forklift Computers, with pre-installed Access Control & Checklist application, compatible with your WMS & scanning software.
Lock out vehicles to eliminate un-authorized usage with Vebar's Control Unit VB-ECU-AA (*)
Using paper safety checklists for your forklifts is expensive, takes time to collect, is hard to monitor and to file and does not offer you the actionable data you need now to keep your equipment in safe working order.
Vebar paperless checklist application offers a web-based solution – that can be used by anyone, files automatically, is centrally managed from anywhere and informs seconds after the checklist was completed.

Be confident to meet your OSHA inspector.
The Vebar checklist application is accessible:
as a browser-based business application
through an Android application


(that also communicates with the Vebar Control Unit * – to collect additional vehicle data.)
Your pre-shift inspection app -web or Android based-, our optional Control Unit to collect additional vehicle data and the Vebar web portal are all designed and engineered by Vebar from the ground up. This means that we know our solutions inside out, we can make changes when needed and we can add functionalities to offer you a solution we master in every detail.
Built-in Security:
all data traffic and all stored passwords are encrypted
we have set strict authentication rules to protect access to your data
Vebar applications are hosted on the AWS cloud
built and developed with high availability and resilience in mind
built to scale
multiple backups per day
NETWORK CONNECTIVITY REQUIREMENTS
Accessing your browser-based Checklist Application requires access to the Vebar web server.
A network administrator in your organization can configure these firewall settings easily!
URL:  portal.vebar.com
HTTPS is used for secure communication, authentication of the accessed website and protection of the privacy and integrity of the exchanged data. The bidirectional encryption of communications between a client and server protects against eavesdropping and tampering of the communication.
Protocol: TCP/IP
The minimum requirement is that TCP port 443 is open.
TCP port 443 is the standard TCP port that is used for a website which uses SSL.
When you go to a website which uses the https at the beginning you are connecting to port 443.
Before installing the Vebar Android app, your Vebar sales engineer will inform you about the specific ip address and port number, used by the Android app to access and store your collected data.